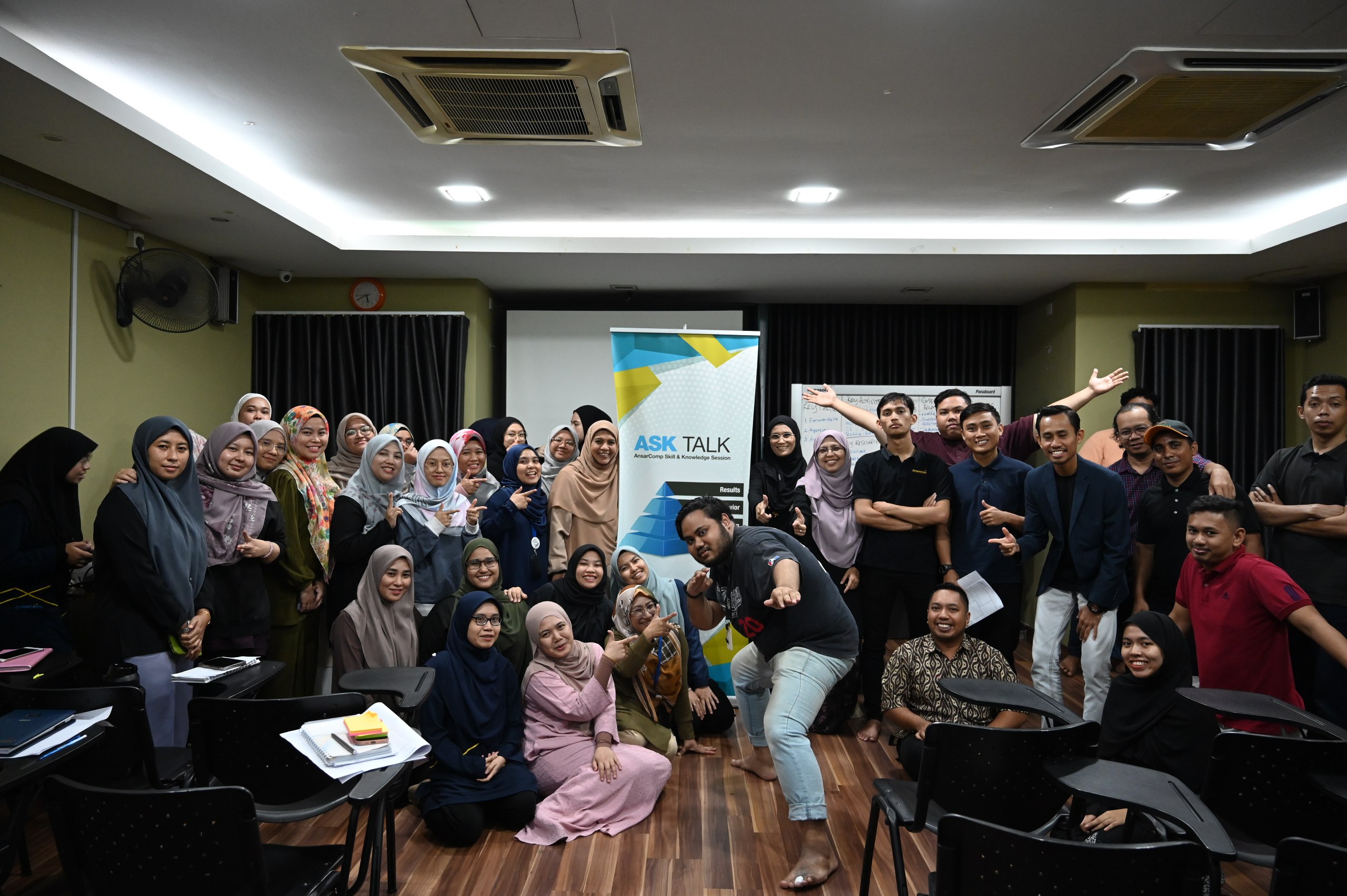 The monthly assembly at Abu Bakar Hall held last week was a resounding success, bringing together employees from different departments for a day of learning, creativity, and collaboration. This month's assembly featured two distinct sessions: the Business Model Canvas (BMC) workshop and Minds Merge, an interdepartmental ideation session. The dynamic leadership of Pn Zarina and Pn Ramlah guided these activities, enabling our team to explore new horizons and enhance our organizational capabilities.
Led by the capable hands of Pn Ramlah, the Business Model Canvas session was a valuable opportunity for attendees to delve into the intricacies of business strategy and innovation. Participants were grouped into teams, and each team was tasked with creating a BMC for a hypothetical service that we operate. The session focused on understanding key components of a business model, such as value propositions, customer segments, revenue streams, and cost structures.
Pn Ramlah expertly facilitated the discussion, encouraging attendees to think critically and creatively. Participants found the BMC session to be highly engaging, as it provided them with a structured framework for brainstorming and evaluating business ideas. The energy and enthusiasm in the room were palpable as teams collaboratively filled out their canvases, sparking valuable discussions on innovation and market potential.
In the second half of the assembly, Pn Zarina took the stage to lead the Minds Merge session, a unique opportunity for cross-departmental collaboration and idea generation. Employees from various departments were grouped together to brainstorm solutions to real organizational challenges.
Pn Zarina fostered a climate of open communication, encouraging participants to share their expertise and insights. The interdepartmental exchange of ideas proved to be immensely valuable, as it not only addressed existing challenges but also revealed untapped potential for synergies among different teams.
The session highlighted the power of collaboration as diverse teams came up with innovative solutions that encompassed a broad spectrum of perspectives. The interactive nature of the Minds Merge session left participants feeling inspired and motivated to continue working together, bridging departmental divides.
Both sessions encouraged creative thinking and problem-solving, providing employees with the tools and inspiration needed to innovate in their daily tasks. The assembly promoted a sense of unity and teamwork among employees, breaking down silos and facilitating a more integrated work environment.
The recent monthly assembly at Abu Bakar Hall was a testament to the organization's commitment to fostering innovation and collaboration. The BMC and Minds Merge sessions, led by Pn Ramlah and Pn Zarina, left a lasting impact on the attendees. It was a day filled with enthusiasm, knowledge sharing, and a renewed sense of purpose, empowering employees to face challenges with creativity and a collaborative spirit. The success of this assembly marks a significant step forward in achieving our organizational goals, and it has set the stage for continued growth and innovation within our company.